The Whitworth wins public vote in BBC website ballot
15 Oct 2015
New extension to 'gallery in the park' up for major architecture prize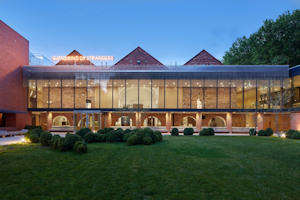 The Whitworth has won a public vote on the BBC website, run in partnership with the Riba Stirling Prize 2015.
Our 'gallery in the park' is on the shortlist for the Riba Stirling Prize, the UK's most prestigious prize for new buildings.
While a select line-up of judges will decide the winner, the BBC, in partnership with the Riba, invited users to vote for their favourite. The public vote is now closed.
The Whitworth art gallery – which re-opened after a £15 million refurbishment in February this year – has won the public vote, gaining 38% of all votes. Tens of thousands of people voted.
President and Vice-Chancellor, Professor Dame Nancy Rothwell said: "The transformation of the Whitworth has been a significant project for The University of Manchester and I am delighted with MUMA's beautiful reimagining of the gallery in the park.
"The fact that RIBA has recognised the architectural importance of this new building makes me very proud. The Whitworth is a valued part of the University, housing internationally significant art collections. Now we also have a building which matches these collections and which can be enjoyed by local people, students, staff and visitors from around the world for many years to come."