Foundation Day celebrations look to the future
14 Oct 2015
University launches its refresh of Manchester 2020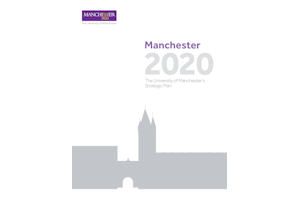 The University's Foundation Day celebrations looked to the future with the launch of a refreshed Manchester 2020.
Manchester 2020 is the University's strategic plan to achieve its vision to be a world-leading university recognised globally for the excellence of its research, outstanding learning and student experience and its social, economic and cultural impact.
Approved by the Board of Governors, the refresh brings the document up to date and reflects changes that have taken place since it was written back in 2012.
It not only reflects the developments and achievements that have taken place at the University since then, it also bears in mind the opportunities and challenges that we are likely to face in our ambition to be a world-leading university.
The three core goals: world-class research; outstanding learning and student experience; and social responsibility, have been updated and enhanced, supported by six enabling strategies. We have also updated the key performance indicators that will be used to measure performance.
The key changes include the following:
More emphasis throughout the text on ambition, focus and distinctiveness such as our five research beacons, which demonstrate how we are finding solutions to some of the world's biggest challenges.
A revised KPI 1 relating to 'global standing' – to be recognised as one of the 25 leading universities in the world, with 20% of subject areas in the top 20, as measured by our position in international league tables.
A new additional KPI relating to postgraduate research-to-staff ratios and postgraduate research completions.
Combining Enabling strategies 3: Managing information and 7: Quality processes into a new single Enabling strategy 6: Quality services.
Incorporating Enabling strategy 8: Environmental sustainability into Goal 3, social responsibility.
President and Vice-Chancellor Professor Nancy Rothwell said: ""We want to be ranked as one of the world's leading universities by 2020, but we also want to be better recognised for our impact on the world, for the revolutionary spirit that defined our history and will drive our future success, and for being part of Manchester."
To read the full document, visit: