Demonstrating our research impact to UK's powerbrokers
08 Oct 2015
Research and Business Engagement team showcase our work in Innovation Zone of Conservative Party conference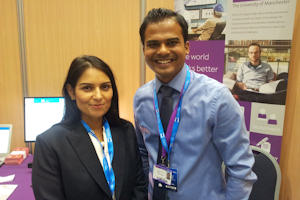 The University showcased its research impact and industry collaborations to the UK's powerbrokers when our Research and Business Engagement team were invited into the 'Innovation Zone' of the Conservative Party conference in Manchester this week.
The conference boasted 10,000 delegates including Government Ministers and MPs, members of the media, international guests and healthcare professionals who were there to debate the future of the NHS.
Minister for Employment Priti Patel and left-wing British columnist, author, commentator and political activist Owen Jones were among them.
Many of the delegates visited the University's stand, which featured a rehabilitation game to demonstrate our biomedical research and work involving the ever-popular graphene.
This is the third year running that the University has been invited to major political party conferences in the city, taking part in Labour's last year and the Conservatives' two years ago.