Vote for The Whitworth on BBC website ballot
08 Oct 2015
New extension to 'gallery in the park' up for major architecture prize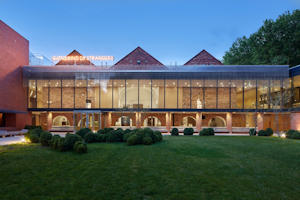 The Whitworth – reopened this year following a £15 million redevelopment – has been shortlisted for the UK's most prestigious architecture prize, the 2015 Riba Stirling Prize.
And you can vote for it in a ballot to find the public's favourite on the BBC website.
Our "gallery in the park" was redesigned by MUMA (McInnes Usher McKnight Architects). Described as a "tour de force" by the prize's organisers, the extension saw the gallery win the £100,000 Art Fund prize for museum of the year on 1 July.
This year's Riba winner will be announced in central London on 15 October.
President and Vice-Chancellor, Professor Dame Nancy Rothwell said: "The transformation of the Whitworth has been a significant project for The University of Manchester and I am delighted with MUMA's beautiful reimagining of the gallery in the park.
"The fact that RIBA has recognised the architectural importance of this new building makes me very proud. The Whitworth is a valued part of the University, housing internationally significant art collections. Now we also have a building which matches these collections and which can be enjoyed by local people, students, staff and visitors from around the world for many years to come."
To vote
To vote for The Whitworth, visit: