Manchester palaeontologist in Emmy award-winning film
05 Oct 2015
Dinosaur 13, featuring Dr Phil Manning, picks up top US television award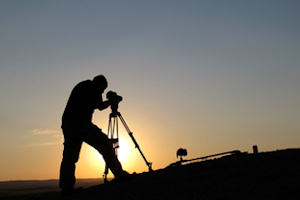 The film Dinosaur 13, which features Dr Phil Manning, has been awarded an Emmy. The film won the Outstanding Science and Technology programming category.
The American documentary depicts the events of 1990 when palaeontologist Pete L Larson and his team discovered the largest and most complete Tyrannosaurus rex ever found while digging in South Dakota.
The historic discovery soon became embroiled in a legal wrangle and the skeleton was seized by the federal government followed by a decade-long battle with the FBI, the National Park Service, the Bureau of Indian Affairs, and the landowner on whose property the bones were discovered. The fossil was eventually sold for nearly $8million.
Professor Manning appears in the film, explaining why prehistoric creatures and their remains are so fascinating to the general public and scientists alike.
On the success of the film, Professor Manning added: "It's very unusual for a scientist to be associated with an Emmy-nominated film but it's also very exciting."