Be a Manchester Science Star at Science Spectacular 2015
01 Oct 2015
Free event on Saturday, 31 October 2015 (11am-4pm) in Whitworth Hall and Manchester Museum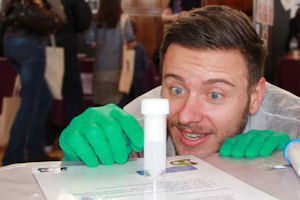 Hurrah, the Manchester Science Festival is coming and The University of Manchester is playing host to a Science Spectacular!
With more than 40 interactive experiments, you don't want to miss out on our annual family science fun day? There will be lots of activities suitable for children of all ages, including face painting and lucky science dips, and there's plenty to keep adults entertained too.
Create a mini-tornado, snuggle up to some creepy crawlies, talk to scientists and crack secret DNA and computer codes. Play the imitation brain game, explore science on a microchip, build a world of fungus and work with mini robots.
So bring your mum and dad, your kids, and your friends to this free event. Take part in our fun science challenges and become a Manchester Science Star! We hope to see you there! On your way, see if you can sport our science buskers along Oxford Road!
Sheena Cruickshank, University of Manchester's Academic Lead for Public Engagement with Research says: "This fantastic event showcases some of the best research at  the University of Manchester and enables people to discover more about our science and gets hands on with fun activities."
What you said last year:
"The whole event was such good fun and the hands-on stuff was great. We all want to be scientists now!"
"I left having really enjoyed the day. I would definitely recommend others taking part."
So come on down to Oxford Rd for some Spectacular Science!
Further information
See:
Twitter: @UoMEngage #ScienceIsSpectacular #msf15
This event is part of the Manchester Science Festival. Discover, experiment and play at this eleven-day Festival: