One of the country's best loved historians wins award
30 Sep 2015
Michael Wood, who has been a regular face on TV for over three decades, has been awarded with the prestigious 2015 British Academy President's Medal Award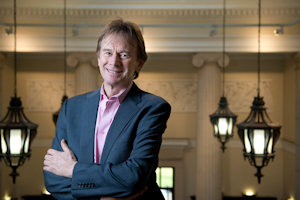 The award is in recognition of Michael's services to humanities and social sciences and was given to him for his significant outreach work in the field of history. It relates to his TV work as well as the numerous public talks he has given in schools, Sixth Form and FE colleges in Greater Manchester.
In his speech Michael, who is also a Professor of Public History at The University of Manchester, talked about TV as a vital link between the work of scholarship and the general public who have a great thirst to know more, in the social sciences and in the humanities.
He said: "I want to especially thank the University of Manchester for its terrific support to me, and for being so aware of the crucial importance of nurturing this link, investing time and effort into outreach, internationally and nationally, and also locally in the many events we do at local schools, Sixth Form and FE Colleges."
Michael, who is also a Professor of Public History at The University of Manchester, is currently completing the writing and presenting of a major BBC series exploring the history of China. He is also known for the highly praised BBC TV series The Story of India.
Originally from Moss Side Manchester, Michael has made well over a hundred documentary films and is known for his work with community historians across the UK. He is also the author of numerous best-selling history books and joined the University in 2013.
Other documentary highlights include In Search of the Trojan War, Art of the Western World, Shakespeare, The Story of England, and The Great British Story.
His In the Footsteps of Alexander the Great was chosen by Bettany Hughes in her Weldon Lecture as the standout presenter-led history series of the last fifty years. The Independent called his recent Story of England 'the most innovative history series ever on TV'.
Michael's bestselling books include In Search of the Dark Ages, Domesday, and In Search of Shakespeare. Michael's documentaries are seen across the world: he is well known on Public Television in the United States, where the Wall Street Journal recently called his work 'still the gold standard'.