Help Manchester become the best it can be
29 Sep 2015
Get involved in the City Council's Manchester Strategy before 30 October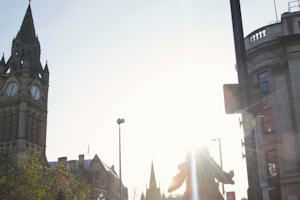 You are invited to give your answer to a very important question: How do we make Manchester the best it can be up to 2025?
Manchester City Council is drafting a strategy with help from many groups and they'd like your views and ideas.
While Manchester has transformed physically, economically and environmentally from the 1980s and 1990s on, many challenges remain with pockets of deprivation, poor health and poverty remaining.
The City Council has decided that by 2025 Manchester must be a world-class city with:
a competitive, dynamic, sustainable economy channelling our distinctive strengths in science, advanced manufacturing, creative and digital;
highly skilled, enterprising, industrious people;
national and international connectivity;
climate change impacts being limited;
residents from all backgrounds that feel safe, can aspire, be successful and live well;
a welcoming atmosphere, that's clean, attractive, rich in culture, and outward looking.
The Manchester Leaders' Forum will lead, collaborate and work to make our city world class.
But this is all about people, so please give your views. If you are a resident of Manchester, do view or download the draft strategy from:
You can then comment on it online at:
Please note that the deadline for providing your feedback on the draft strategy is Friday, 30 October 2015.
The University will be submitting a separate corporate response to the draft strategy.
There will be opportunities in September for partners and residents to discuss the consultation and create a conversation about our city.