Oxford Road is changing – get ready to 'Go Dutch!'
24 Sep 2015
Greater Manchester's first ever "Dutch-style" cycle lane will be revealed next week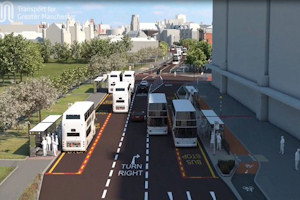 Transport for Greater Manchester (TfGM) in partnership with Manchester City Council are working together to revolutionise the way people travel across the city centre, in particular the Oxford Road corridor.
The new-style bike lane, a common feature on city roads in Holland, is designed to make it safer for cyclists passing bus stops. Instead of overtaking a bus, the rider can safely cycle 'behind' the bus stop. A coloured cycleway featuring pedestrian crossing points, including a zebra style crossing, informs riders, pedestrians and bus passengers of the layout so they are also able to watch out for each other.
The first of these bypass lanes will be on Oxford Road opposite Whitworth Park and will be used to run a 'real-time' trial before more are built. The new "Dutch-style" cycle lane and bus stop, will be easy to spot with its eye-catching design featuring tulips, clogs and windmills. Anyone using it – including cyclists, bus passengers and pedestrians – will be asked for their feedback on how the stop works.
The new cycleway and bus stop is available to use now with the official trial starting on Monday, 28 September. Comments will be used to help review and improve the "Dutch-style" design before a further roll-out at stops along the length of Oxford Road.
Once complete, the lane will form part of the Wilmslow Road Cycleway which will run from Didsbury village through Rusholme and into the heart of Manchester city centre.