Welcome 2015: It's just the beginning
24 Sep 2015
Welcome Week may be nearly over for another year, but the hard work is just beginning for students and staff alike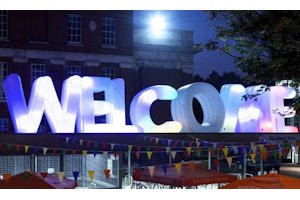 Even with the full 'zombie' stage make-up covering his face, it was impossible to miss the enormous grin on Edward Cooke's face. "This is the best thing I've done as a student here," he says.
Edward, a second year student in the School of Electronic and Electrical Engineering, is one of 175 centrally-managed student ambassadors who have been working since 7 September on Welcome activities for new students. They've been joined by hundreds more staff and students from every area of the University to put together welcome and induction activities of all kinds - from visa and residency permit processing, to social events like Monday night's 'zombie chase' where Edward was working.
There's so much going on campus, it's great to see everyone coming together to make our new students feel welcome - it makes a great impression so new students know they've made the right choice in coming here to study," says Paul Govey, who chairs the Welcome Strategy Group, and is responsible for making sure all of the activities around campus are joined up. "All the staff involved, right across campus, have worked especially hard this year to make the experience of Welcome consistently excellent, no matter which part of the University they engage with - whether that's one of the centrally-organised events, in Halls of Residence, Schools and Faculties, or at the Students' Union."
Though the programme is still ongoing, some of the set-piece events have already seen their peak of student numbers:
Orientation presentations and workshops were attended by more than 2000 international students;
More than 8000 students visited the Start of Year Fair, showcasing University support services;
More than 8000 settled in to their new homes in Halls of Residence;
At least 750 postgraduates spent a night at the Museum in an exclusive postgrad event;
Plus thousands of visas checked, and scanned, and Biometric Residency Permits issued through the Student Services Centre.
Paul Govey has only thanks and praise for everyone involved: "I can't say thank you enough to everyone who has worked so hard to make Welcome a success this year."
But it's not over yet. While the official Welcome Week might be drawing to a close, the hard work is only just beginning. Whether they're new to the University or returning for a third or fourth year, students still need the support of all staff over the coming weeks and months.
Keep wearing your AskMe badges, and share your own experience of campus with lost-looking students throughout October. Being an AskMe badge-wearer doesn't require any special training — we encourage you to use your existing knowledge, contacts and resources to help students with their enquiries. And don't worry if you don't know the answer to a question straight away – you can still give the student a positive experience by looking into it for them or taking them to one of the many Ask Me points, where they are trained to deal with all sorts of enquiries.
Further information
Visit: