New space for Wellbeing
23 Sep 2015
Classes are now under way in the new Wellbeing Rooms in the Simon Building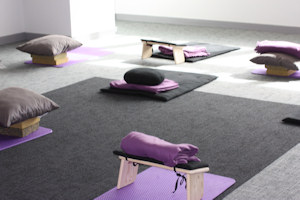 On the ground floor are two light and spacious rooms which are available for yoga, tai chi, and a range of other classes.
Upstairs on the first floor, there is an equally light and spacious groupwork room (shown in the photo) with comfortable beanbags, meditation cushions and mats. A resource room, treatment room and Chill Out Room complete the facilities on this floor.
Mindfulness practice has already started in the large group room on the first floor, so come along, either at the end of the day or during your lunch time, to continue to practise mindfulness or to be introduced to the practice.
Mary, Heather and Omar will be teaching classes on:
Monday (4-5pm)
Tuesday learn to relax (1-2pm)
Wednesday (5-6pm)
Thursday (1-2pm)
Friday (1-2pm)
Further information
For details of the full Wellbeing programme, visit: