New film tells parenting stories of Manchester's Syrian refugee families
21 Sep 2015
Researchers at The University of Manchester and an independent film maker have produced a new documentary to show the experiences of Syrian refugee families living in Manchester.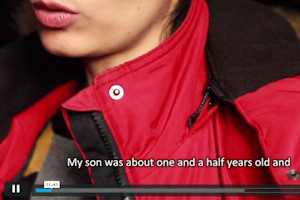 The new film, Departing:Arrivals tells the families' stories through the eyes of parents, who talk about why they fled Syria, their journey to the UK and experiences of raising children in war-torn Syria – threaded through with their hopes for the future as they start their new lives. 

The film is part of a larger project by The University of Manchester's School of Psychological Sciences which is attempting to help parents learn new skills to heal the mental scars gained by their children during the war and subsequent journey to Europe.

Manchester psychologists have been working with non-governmental organisation Watan on the Syrian-Turkish border since early on in the conflict to help distribute support and advice literature to parents via a daily bread delivery service provided by Khayr Charity Foundation. In Manchester, an exhibition has been held by the psychologists showing often distressing hand-drawn pictures created by children of the sights they have seen in the conflict.


Departing:Arrivals from Hafsah Naib on Vimeo.
In the film the parents speak anonymously about their experiences, filmed up close to give a sense of intimacy.  Overall, four people who have been in Manchester between 11 and 18 months were interviewed.

The project is led by Professor Rachel Calam.  She said: "Relief efforts naturally focus on alleviating the physical suffering of refugees, but this means that the psychological effects are sometimes neglected."

"Children and their parents can find it hard to cope with the experiences they've had and this film is part of a wider attempt to tell that story.  The parents who spoke to us demonstrate the incredible bravery and determination we've come across on countless occasions as refugees fight to keep their families intact and find new lives in safer countries."

The film, which was supported by Work for Change and part-funded by the Wellcome Trust was shot by filmmaker Hafsah Naib in Manchester.  She said: It was a unique privilege to work with these families whose incredible stories of struggle, bravery and sheer will had a profound effect on my understanding of the conflict, and although I felt privileged to meet these families, I also felt a huge amount of responsibility to show their experiences in an authentic and powerful way. 

"Given that none of the participants were comfortable with their faces being shown in the film, I saw an opportunity to focus on hands, clothing and the environment as a way of representing each identity which allowed me to communicate a much more intimate and honest film, albeit one that took on an stylistically experimental and innovative edge."

Now completed, the film will be screened at future exhibitions put on by the team and widely disseminated to increase awareness and highlight the urgent need to support families displaced by the conflict.