China Dream for UK Students
16 Sep 2015
The Study China programme, in partnership with Manchester Business School China Centre, delivered the first, Chinese business and networking conference, on Thursday 13 August 2015, at the Fudan Crown Plaza Hotel, Shanghai.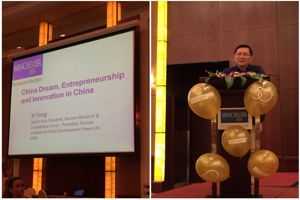 180 Study China Programme participants from over 30 UK universities were introduced to key aspects of Chinese business practice, and provided with practical advice regarding identifying and securing employment in China, at the bespoke event.
Key note speakers representing  Deloitte & Touche, Horizon Research and Consultancy Group and China–Britain Business Council, delivered insightful and thought provoking presentations regarding, the future of UK-China relationships, entrepreneurship and innovation in China, and Chinese development over the next five years.
Over 30 UoM alumni and MBS students joined the event and shared their professional experience with UK students over the conference dinner.
Jeff Astle, Executive Director for China-Britain Business Council, commented "Study China provides an invaluable and unique opportunity for graduates to fully appreciate and understand the reality of working and living in China. Graduates today, are future pathfinders within the Chinese employment market. They need to be thoroughly prepared and informed to enter this highly competitive jobs market and succeed".
The Study China Programme is UK's largest student mobility programme funded by the UK Government department for Business, Innovation and Skills. The programme is managed and delivered by The University of Manchester and offers students a unique opportunity to experience Chinese life, culture, language and business.
Further Information