Manchester-based psych-rock duo Bird to Beast
16 Oct 2015
Friday 23 October, 8pm, at the Martin Harris Centre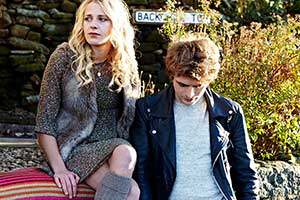 Armed with infectious songs full of love and wonder, Manchester-based musical duo Bird to Beast are a psych-folk duo spinning magic from the sounds of yesteryear to create something fresh and unique.
Bird to Beast is the brainchild of recently married couple, Sam and Hannah Hird - but they didn't start writing music together until after they wed! After a chance meeting at their hometown's annual blues festival they fell in love through music, before deciding to start writing together.
Timeless melodies and soaring harmonies tip a hat to the pop nous of greats like The Beach Boys, Kate Bush and The Beatles as well as contemporary singer-songwriters like Rufus Wainwright and James Mercer.
Bird to Beast's debut album in 2013 was voted the best of the year by Manchester Evening News, they've been interviewed by Maconie and Radcliffe on BBC 6 Music and they now have a host of very successful festival performances under their belts.
Join us at the Martin Harris Centre for a chance to catch this local gem in an intimate environment.
To book:
Tickets are priced at £7 (no concessions) and are available from:
Martin Harris Centre Box Office 0161 275 8951 (2-4pm weekdays) or
Online at Quaytickets
Further Information: