The Study at Manchester Museum opens this week
09 Sep 2015
Manchester's space for new thinking opens on Friday, 11 September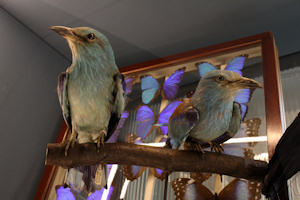 The Study is a reworking of the entire top floor of the Museum's historic Grade II* listed building. It has been reimagined by BKD with architects Wilson Mason as a space designed to spark wonder, curiosity and a passion for research in all of its visitors.
The Study sits inside the 1885 building originally designed by celebrated Victorian architect, Alfred Waterhouse. What was formerly an uninviting space has been opened up, new roof lights and windows installed and original features, such as ebony-black display cases that cluster around a central atrium, painstakingly restored.
But The Study is not only about restoration. It features bespoke furniture designed by BKD and state of the art equipment, such as a video microscope capable of sharing still images direct to Twitter alongside digital access to the museum's collection.
The Study itself is made up of three parts: a gallery, which opens with photography by West African artist, Nyaba Ouedraogo; a research space, filled with tools, resources and curious objects taken from the museum's four million object strong collection; and an expanded collections study centre, designed for in-depth research.
Taken as a whole, the different elements of The Study are designed with one thing in mind: to enable all visitors to the museum to think about the world in new ways.
Dr Nick Merriman, Director of Manchester Museum said, "The Study is an extremely important project for Manchester Museum. It will be a wonderful and inspiring new space, which combines cutting edge research into contemporary science and human and natural history, with the widest possible access and opportunities for new thinking."
The Study is a major capital project costing around £700,000. It has been funded with the generous support of The DCMS/Wolfson Museums and Galleries Improvement Fund, Arts Council England's Designation Development Fund, the Garfield Weston Foundation, the Mercer's Charitable Foundation and alumni and friends of The University of Manchester.
Further information