Manchester Literature Festival - Jeanette Winterson
01 Oct 2015
Tuesday 13 October, 7.30pm at the Royal Exchange Theatre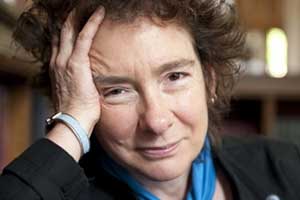 The Gap of Time: The Winter's Tale Retold
One of our most imaginative storytellers and Professor at the University's Centre for New Writing, Jeanette Winterson has written 10 novels, a book of short stories, numerous essays and screenplays and the powerful memoir, Why Be Happy When You Could Be Normal?
Manchester Literature Festival and Hogarth Shakespeare are delighted to present her latest project - The Gap of Time: The Winter's Tale Retold.
An energetic and ambitious reinterpretation of one of Shakespeare's late plays, Jeanette's retelling moves from London, a city reeling after the 2008 financial crash, to a storm ravaged city in the US called New Bohemia. Join us for this unmissable event.
To book:
Tickets are priced at £12 / £10 and are available from:
Martin Harris Centre Box Office 0161 275 8951 (2-4pm weekdays) or
Online at Quaytickets
Further Information: