Oxford Road latest
08 Sep 2015
Transport for Greater Manchester to close section opposite Whitworth Art Gallery this weekend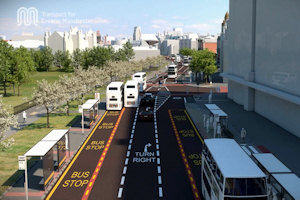 Transport for Greater Manchester (TfGM) in partnership with Manchester City Council are working together to revolutionise the way people travel across the city centre, in particular the Oxford Road corridor.
You may have noticed that in recent weeks work has been carried out on the section of Oxford Road just south of Hathersage Road, opposite Whitworth Park. The work in this section is to create a trial cycle bypass and enhanced bus stop platform. Work on the trial stop is almost complete with only limited road resurfacing remaining. The resurfacing work in this area will require a full closure of the southbound lane heading out of the city between Hathersage Road and Moss Lane East.
In order to minimise the potential for disruption to commuters the closure will take place this weekend starting on Saturday, 12 September and ending Monday, 14 September.
The working hours are Saturday 8.30am to 6pm and Sunday 9.30am to 6pm.
Please note that the closure will remain in place for the whole weekend but that access to all properties, including the Central Manchester Hospital site, will be maintained by using Upper Brook Street. The inbound traffic lane will remain open and is unaffected.
The stop, which will feature Manchester's first physically segregated 'Dutch-style' cycle bypass, is part of the bus priority package – a scheme that will see one of the largest investments into Greater Manchester's bus network in decades.
Once the trial stop has been built, we'll be asking the public for feedback so the trial will allow us to monitor and evaluate how cyclists, bus users and pedestrians interact at the stop - including the effectiveness of the proposed central zebra crossing. Results taken from a period of public testing will enable us to fine-tune the design so that it works for everyone along the whole length of Oxford Road. Details of when the trial official begins will be made public in the coming weeks.
An example of a 'Dutch-style' cycle lane, which safely segregates cyclists from other road traffic, can be seen in the image below. You'll notice how the cycle lane passes directly behind the bus stop platform. 
We will keep people updated throughout the Oxford Road transformation but for more information on the changes or the wider bus priority package then please contact TfGM directly on: