Oxford Road now open
07 Sep 2015
Bridge demolition and related works goes smoothly, ensuring one of Manchester's busiest roads has re-opened as planned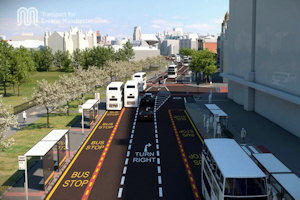 Oxford Road has now re-opened.
Work has progressed well on the demolition of the bridge and related works on Oxford Road, ensuring one of Manchester's busiest roads has re-opened as planned.
During this final week of works, scaffolding is being erected to install the brickwork to the Crawford House façade, and undertake the temporary repair to the Precinct façade.
The installation of the brickwork is likely to take up to eight weeks and a short stretch of bus lane will therefore be closed outside Crawford House, beginning Monday 7 September until Monday 2 November.  This will affect traffic from Manchester heading in the Fallowfield direction which will have to merge into one lane at this point.  The bus stops outside Kilburn House are not affected and remain where they are.
The bus lane closure is necessary to allow pedestrians to safely pass the scaffolding whilst the work to the façade is being carried out, as the footpath outside Crawford House is too narrow to allow pedestrians to walk beneath the scaffold.
The temporary repair works to the Precinct façade will also be ongoing, but this will be undertaken from mobile elevator platforms and scaffolds working from the pavement. There will be no impact on traffic heading towards Manchester from the direction of Fallowfield.
Again we'd like to thank staff, students and the public for their interest, support and patience whilst the bridge demolition work was carried out, the ongoing closure of Oxford Road and any disruption caused by the bus lane closure.
Future updates will be provided on progress on the façade works and bus lane closure.