Staff athlete makes a difference through competitive athletics
01 Sep 2015
University given a sporting chance to raise its profile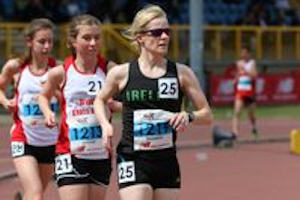 Reader in Health Economics, Dr Brenda Gannon, is Making a Difference through competitive athletics.
Brenda who is based in the Faculty of Medical and Human Sciences' Institute of Population Health, took up the sport in 2012 and encouraged by her coach, Dr Andi Drake from Leeds National Centre for Race Walking, now competes across the UK and Ireland for the Irish National Racewalking team and the North of England team.
Brenda has found athletic meetings to be ideal opportunities to promote the University and said: "At these events I am recognised as a staff member of The University of Manchester which leads to questions about my work in health research and courses on offer to students."
She added: "There are currently two international high performance student race walkers at the University and as a small group we often train together either in Manchester or Leeds. This opens up the prospects for potential students who may want to study at Manchester but continue their training at the Leeds National Centre."
Brenda would like to see staff athletes recognised by the University in the way that student athletes and sport scholars are recognised and facilitated by SPORT Manchester.
She commented: "It would be great to know if there are other staff athletes within the University and to increase the level of support to a similar level to that enjoyed by students.
"For example, student sport scholars are entitled to access the Sudgen Sports Centre's PowerRoom, physio and nutrition support."
"While there are potentially fewer international level staff athletes, they still may compete with the students and may like to enjoy similar benefits to increase their ability to represent the University at home and abroad."
"Support for staff athletes may help to improve participation levels overall and raise the profile of The University of Manchester as a place for potential staff and student athletes."
Currently Brenda trains twice week at the PowerRoom where head coach Nicholas Jones along with coach Nathan Wells provide detailed individual plans and carefully monitor progress and adaptation.
Having a facility such as the PowerRoom on campus is not only convenient for Brenda to continue the Strength and Conditioning training vital for improving her race performance but is also an opportunity to train among other dedicated high performance athletes, mostly SPORT Manchester scholars and catch up with news on the weekend competitions.
Brenda added: "The lifestyle of an athlete, either student or staff, is very busy but enjoyable."
"Athletes require a wide ranging support team and I'm very grateful to the coaches at Leeds and in the PowerRoom here in Manchester, as well as the Irish team manager for including me in the Irish Squad."
In June this year Brenda represented Ireland in the International Small Nations Match in Bedford gaining 3rd place on 10,000m track.
She then finished 5th in the 5,000m track at the Sainsbury's British National Championships in Birmingham in July where she competed as an international guest and followed up with a 3rd place finish as member of the North or England team at the Inter Area Match on the 5,000m track.
Earlier this month, Brenda finished 1st in the Irish Masters (age 35+) with a new Irish record over 3000 metres.
More information
For more information, visit: