FREE lunchtime concert: Quatuor Danel
24 Sep 2015
On Thursday 1 October, 1.10pm at the Martin Harris Centre.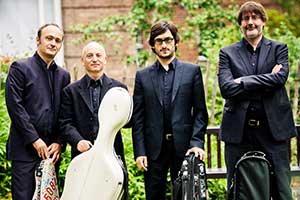 The University's magnificent string quartet-in-residence opens its 11th season at the Martin Harris Centre with 'the most nearly tragic work Haydn ever wrote' (Tovey), followed by the first of Béla Bartók's hyper-intense, epoch-making six quartets.
Haydn Quartet in F Minor, Op. 20, No. 5
Bartók Quartet No. 1, OP. 7
FREE - no need to book - just turn up.
Further information: