University's knitters have Coronation Street in stitches
31 Jul 2015
Colleagues to 'yarn bomb' the soap opera's tour with their colourful designs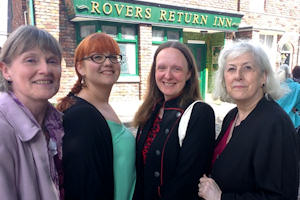 Coronation Street, the soap opera that has featured dramatic storylines and vibrant characters over the years, is about to become even more colourful – thanks to members of the University's In Stitches knitting circle.
The group are decorating the famous Street with knitted items including bees, trailing flowers and hanging baskets, as well as covering its post box with their intricate patterns.
They were invited to 'yarn bomb' the old Quay Street set to bring some eye-catching new additions to the final few months of the Coronation Street tour which closes in December.
The art of yarn bombing, also known as guerilla knitting, is a type of graffiti or street art that uses colourful displays of knitting instead of paint or chalk.
Founder member Charlie Hooson-Sykes said: "I wanted to meet other people who knitted and enjoyed crochet.
"We also knitted a 6ft by 6ft galaxy which is now under my desk and needs a new home.
"With this project we are covering a post box and creating hanging baskets and randomly covering other things on the street."
Furher information
If you'd like to know more about the InStitches knitting circle, contact: