Take a look at the new Faculty of Medical and Human Sciences website
29 Jul 2015
The Faculty of Medical and Human Sciences (MHS) has launched an all-new responsive website following eight months of work to implement a new design and refreshed content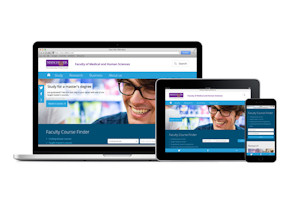 The project brings the MHS website in line with the University's visual and written branding, creating a seamless experience for users visiting MHS from the University site and vice versa.
Prospective students – particularly postgraduates – will find it easier to find information on courses and MHS, as well as to make an enquiry or application.
The main changes include:
a responsive design that works across all devices, improving the experience for the 37% of web traffic that currently comes from mobiles and tablets;
improved course search with better recognition of keywords that aren't in course titles;
a new site structure and navigation in line with the University website;
revamped course marketing leader pages (CMLPs) with clearer calls to action;
improved analytics;
better optimisation for onsite content, making it easier to find us in search engines. 
In addition, the relaunch means that the Faculty is now using the T4 content management system also used by the University.
The MHS Communications and Marketing Team is now working on a similar revamp for the Faculty's five School websites: Manchester Medical School, Manchester Pharmacy School, the School of Dentistry, the School of Psychological Sciences, and the School of Nursing, Midwifery and Social Work.
This will create a truly seamless experience for all prospective and current students, staff, alumni and other users visiting the Faculty and School sites.
In light of the recent review of Life Sciences and Cognate Disciplines, any future changes to the new Faculty's structure will be taken into account in further website work once these changes have been confirmed in due course.
Further information
If you have any questions or comments, please email: