Help the University produce socially responsible graduates
22 Jul 2015
Enthusiastic staff, both academic and PSS, and PGR students, are needed as Volunteer Facilitators for groups of students taking part in Sustainability Challenge 2015 on 22 September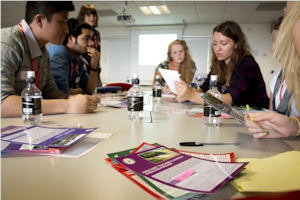 Would you like to help deliver the Sustainability Challenge 2015, and contribute to the University's Ethical Grand Challenges programme to help produce socially responsible graduates?
We are looking for enthusiastic and approachable members of staff, both academic and PSS, and PGR students, to take on the key role of facilitators for groups of students taking part in Sustainability Challenge 2015.
We are looking for volunteers from all parts of the University including academic schools, central PSS, Library and Cultural Institutions.
The Sustainability Challenge will take place in University Place on the afternoon of Tuesday, 22 September, with 1500 first year undergraduates, drawn from all Faculties, taking part.
The Challenge is a three-hour simulation exercise, based on the fictitious University of Millchester's new Campus East Development.  Students will work in interdisciplinary groups to plan the new campus, in the context of changes to climate policy to address extreme weather events around the world.
To be a Volunteer Facilitator you don't need to work in a student-facing role, but you do need to be confident in communicating to, and managing, diverse groups of students.  Full training will be provided.
If you'd like to be considered for this role, you must:
be available on Sustainability Challenge Day on Tuesday, 22 September, 12.30-5.30pm;
be available for training on either Monday, 14 September or Wednesday, 16 September, 10am-4pm;
if necessary, have your line manager's permission for you to take part.
Find out more and express your interest
If you have any questions, or would like to discuss what's involved, please contact: