Hear leading thinkers on sustainability
20 Jul 2015
Public events on Thursday, 23 July (1.30-2.30pm) as part of Manchester Museum's Sustainability Summer School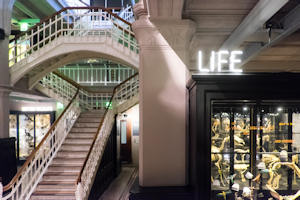 Making sustainability boring is a crime
Join Steve Conor, co-founder and CEO of Creative Concern and the editor of On The Platform, as he talks about why he thinks making sustainability boring is a crime.
He specialises in ethical and sustainability issues, integrated campaigns, city strategies, brand development and creating strange installations out of trees, lights and beautiful type. Particular areas of expertise include climate change, place making, transport, food issues and the natural environment.
Cities and Sustainability
Lu Yang, a  Sustainability and Environmental Consultant at Arup with a post-graduate degree in Town Planning and Environmental Management, will explore how cities can be sustainable.
Lu has over four years of experience of delivering consulting services in the fields of corporate sustainability, city resilience, social value accounting, building sustainability, environmental management and environmental impact assessment.
Sustainable Technologies: The Crystal & Biogasification
Michael Graham, a Graduate Mechanical Engineer in the Arup Energy Consulting team based in Manchester, will give an insight into technologies behind sustainability.
Since joining Arup in September 2014, Michael has worked on a range of energy infrastructure and consultancy projects. His technical, problem solving and analytical skills gained at University have been utilised to great effect in projects focusing on distributed energy modelling, financial modelling, options appraisals and energy centre commissioning.
All the talks will take place in the Museum's Kanaris Theatre and are free and drop in. After the talks there will also be an opportunity to see stalls from leading NW sustainability companies in Manchester Museum's stunning Living Worlds gallery.