Double win for University at HEIST Awards 2015
10 Jul 2015
The We Get It and World Leading Minds campaigns have carried off Gold and Bronze Awards respectively in the premier awards for marketing in the FE and HE sectors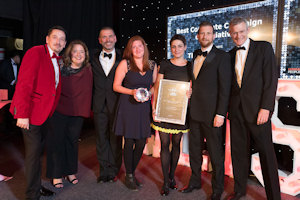 Established 25 years ago, the HEIST Awards recognise and celebrate professionalism, expertise and innovation throughout the sectors. This year's awards were presented at a glittering gala dinner at The Palace Hotel, Manchester, on Thursday, 9 July.
The We Get It campaign took the Gold Award in the Best Corporate Campaign or Initiative category. Originally launched in February 2014 to promote zero tolerance of sexual harassment amongst staff and students, the campaign broadened its scope in 2014/15 to target further areas of harassment and discrimination. 
A measure of the success of the campaign was that the Staff Survey 2015 showed that staff awareness of their responsibilities under the University's Dignity at Work and Study Policy had increased from 68% in 2013 to 80% this year. 
The judges commented: "To tackle a difficult subject head on and see success is commendable. A brave and impactful campaign that united the institution."
Paul Govey, Head of Student Communications and Marketing, said: "It was fantastic that HEIST have recognised the We Get It campaign as a Gold award winning campaign as this was a great example of partnership working between the University and the Students' Union."
The University was also Bronze Award winner in the Best Employer Marketing Initiative category for its World Leading Minds campaign, which was established to recruit 100 exceptional academics to the University to help answer some of the greatest questions facing the human race.