Medical student overcomes brain tumour to take up cancer hospital placement
17 Jul 2015
A Manchester medical student who graduated last week, returned as part of a placement to the radiotherapy department that treated her brain tumour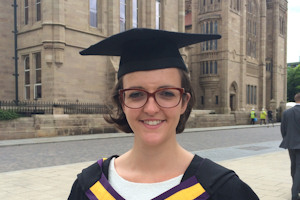 Rebecca Reed, 25 from Hackney, London, suffered a fall in her third year of study and was sent for a routine scan.  This scan revealed that she had a brain tumour requiring surgery which lasted ten hours. To take her mind off the impending surgery, Rebecca carried on with her exams during the two weeks she was on the waiting list and received the results the same day as the results of the surgery.
She said: "Unfortunately the results of the surgery weren't ideal and I was told that I was being referred to The Christie in Manchester for six weeks of radiotherapy.  This led to a year out of university, but on getting back I found out there was a placement opportunity at the same hospital."
Unsure about whether to accept, Rebecca arranged for an informal placement to take place with the support of The Christie and University.  As a result she took the formal placement and even found time to visit the staff who had given her the radiotherapy the year before.
She said: "The University told me I didn't have to do my placement there, but I visited the hospital and this made me determined to go back.  I also went back to thank the staff in the radiotherapy unit who treated me."
Rebecca has been inspired by the life-changing brain tumour, Rebecca has become an ambassador forthe Brain Tumour Charity, representing it as their Christmas Appeal story, talking to people to increase awareness and speaking at an All Party Parliamentary Group meeting at the House of Commons about changes she feels need to be made to treatment and ongoing support for patients.
She said: "The hospitals, the University and my friends and family were incredibly supportive during my illness, especially as a medical student I knew I'd have to go back into a hospital when I started my studies again.
"I've now got a job in a hospital in Durham and I'm looking forward to taking that up and progressing into a career as a GP.  I'm grateful to be in the position to do so and I'm determined to give back through continuing to support the Brain Tumour Charity and working in the NHS."