Charity leader awarded Outstanding Alumni Award
09 Jul 2015
Oxfam's humanitarian director inspired as Manchester student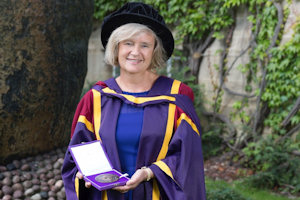 During her time at the University of Manchester, Oxfam's humanitarian director Jane Cocking was inspired by the sense of possibility, aspiration and motivation to make a difference.
It was one of the reasons why, having graduated with a BA (Hons) History in 1981, she left her first job, in the rail freight industry, after deciding it wasn't for her.
Instead, following a period of further study, including a PhD in Cretan folk textiles, she joined the Africa desk at the Overseas Development Administration (ODA) in 1987, now part of the Department for International Development.
It was while on a mission to Somalia with the ODA that Jane found her vocation – providing help, support and guidance to communities in crisis. Back in the UK, she joined Save the Children – and immediately returned to Somalia. Over the next 25 years and more, Jane would play an active part in responding to humanitarian crises in many of the world's most troubled regions, including Somalia, Ethiopia, Sierra Leone, Sudan, Eastern Europe and the Middle East.
Having joined Oxfam in 1997, she became regional programme manager in southern Africa in 2003, working particularly in Zambia, Zimbabwe and Malawi. She is now humanitarian director, with particular responsibility for ensuring the quality of Oxfam GB's humanitarian work, which amounts to around £116 million.
Jane was awarded an OBE in the Queen's birthday honours in 2011 for her services to the voluntary sector. She has been back to the University of Manchester on a number of occasions to give talks at the Humanitarian and Conflict Response Institute about her role and the vital work that the humanitarian sector is involved in all over the world.