Director of Dementia Research - Professor Nigel Hooper
30 Jun 2015
Professor Nigel Hooper has been appointed to the role of Director of Dementia Research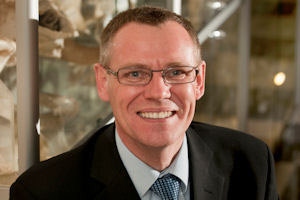 Nigel will lead on the implementation of the ambitious University of Manchester dementia strategy through the UMRI-supported dementia@manchester network.
The main aims of dementia@manchester are to:
coordinate, focus and optimize our dementia research;
build a sustainable base for future capacity in dementia studies;
increase grant income and deliver added value to translational outputs;
build the reputation of the University as a leader in dementia research;
enable the University to become dementia friendly and to enhance its social responsibility agenda;
build on and develop our PPI networks; and
deliver stratified medicine and improved health and social care benefits for those living with dementia in Manchester and the North West of England.
To do this, we will be strengthening existing links and creating new ones across the University, within MAHSC NHS partners and other local NHS organisations (such as Clinical Commissioning Groups), local councils (eg working with Directors of Public Health), and other academic institutions (eg Manchester Metropolitan University and University of Salford) to exploit opportunities for research and influencing policy and practice.
Our ultimate aim is to work together to ensure Greater Manchester becomes a leading player both nationally and internationally in the fight against dementia in order to bring forward real benefit for those living with dementia and their carers, families and friends. Nigel would be delighted to speak with anyone who would like to become involved in this endeavour, so please do contact him directly at:
"It is a great pleasure to see Nigel as Director of Dementia Research in Manchester. Interest in dementia research is reaching a peak and having the opportunity to work together is incredibly powerful." Alistair Burns, Professor of Old Age Psychiatry and Vice Dean for the Faculty of Medical and Human Sciences