Manchester to become new Cancer Research UK Major Centre
26 Jun 2015
Cancer Research UK has announced a further investment of £5 million in Manchester to help transform personalised medicine for cancer treatment and follows last week's launch of the new cancer research building in Manchester.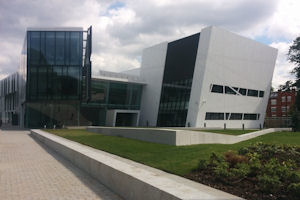 The Cancer Research UK Manchester Centre is one of the first of CRUK's Centres to gain Major Centre status, and in doing so will receive an extra £5 million over two years. The Centre will act as a vital research hub for the Cancer Research UK centre network, drawing together expertise, encouraging collaborative research, and bridging the gap between innovative laboratory work and benefits for patients.
The Centre benefits from a strong partnership with The University of Manchester and The Christie NHS Foundation Trust. It is a leading cancer research institute within The University of Manchester, core funded by Cancer Research UK.
By becoming a Major Centre, the Cancer Research UK Manchester Centre will focus on four main themes; discovery of new biomarkers, clinical trials, analysing cells and tissues, and innovations in radiotherapy and imaging. Turning this into reality means more investment in infrastructure and technology, allowing patients to benefit from basic and clinical research. 
The team will lead the way in personalised medicine by analysing the genetic makeup of patients' individual cancers.  Researchers will profile blood samples at diagnosis and throughout the patient's journey looking for DNA and cancer cells that are released from the tumour.
The information will then be used to help doctors pick the best treatments, including radiotherapy, chemotherapy and new drugs, and to adapt treatment as the patient's tumour progresses and evolves.
Watch below to see how The University of Manchester is tackling cancer:
Professor Nic Jones, chief scientist at Cancer Research UK and director of the Cancer Research UK Manchester Centre, said: "There has been great progress in cancer survival rates over the last 40 years with survival doubling, but many challenges remain.  The Centre will invest not only in collaborative and innovative research, but in the next generation of world-leaders in cancer detection, treatment and prevention."
Dr Iain Foulkes, executive director for research funding at Cancer Research UK, said: "The development of these Major Centres will accelerate national and international collaborations and improve treatments for patients. In each location we are developing cutting-edge approaches in how we treat the disease, be that the detection of individual tumour cells in the blood that allow us to monitor the disease or precision radiotherapy. With these Centres the UK goes from strength to strength in supporting the best cancer research in the world."
Cancer is one of The University of Manchester's research beacons - examples of pioneering discoveries, interdisciplinary collaboration and cross-sector partnerships that are tackling some of the biggest questions facing the planet.
Watch here for more information on the new University building for the Manchester Cancer Research Centre which opened last week: