Manchester stroke specialist scoops national award for life-saving work
25 Jun 2015
One of the country's leading stroke specialists has scooped a national Life After Stroke Special Recognition Award for her pioneering work to transform the quality of stroke care in the UK. Professor Pippa Tyrrell, 58 from Cheshire, was presented with her award at a star studded ceremony hosted by the Stroke Association in London today (Thursday)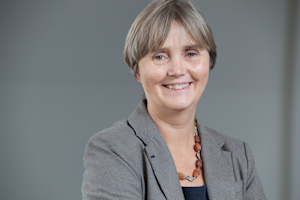 Professor of Stroke Medicine and Senior Lecturer at The University of Manchester, Professor Tyrrell was the first stroke physician to be appointed in Manchester in 1995. Driven by a desire to bring life-saving stroke treatments to patients, she has worked tirelessly to develop stroke services in the region ever since.
Professor Tyrrell played a key part in transforming stroke services in Greater Manchester, enabling stroke patients to access the 'gold standard' of care within the vital first few hours after a stroke. Stroke patients were previously admitted to district stroke centres at their local hospital, with limited access to emergency treatment.  Now, all emergency treatment is centralised in three hospitals – Salford Royal, Stepping Hill and Fairfield – giving patients 24/7 access to emergency 'clot-busting' thrombolysis and brain scans. Her research has also led to changes in national guidelines for the use of early, intensive communication therapy after stroke.
Professor Tyrrell said: "I'm truly honoured to receive this award.  When I became a consultant 20 years ago, treatment for stroke was virtually non-existent.  Thanks to organisations like the Stroke Association, who have championed new and better ways of treating stroke, all stroke patients in the UK can now expect to receive a much higher level of care. By continuing to invest in world-class research, we will, one day, conquer stroke."
Professor Tyrrell is a member of the Stroke Association's Scientific Committee and Chair of the charity's Research Awards Pool. Her contribution to stroke research and care over many years was recognised by the Stroke Association when she was made a Trustee in 2012.  She also teaches undergraduate and postgraduates in stroke medicine and set up the stroke speciality training programme for doctors in the North West. 
Chris Larkin, North West Regional Director for the Stroke Association, said: "Pippa's compassion and dedication to helping others is an example to us all. Not only has Pippa revolutionised the treatment and care for stroke patients, but through her teaching and mentoring, she's inspiring the next generation of stroke specialists. She is a very worthy winner of this award."
The Stroke Association's Life After Stroke Awards, sponsored by TONI&GUY Charitable Foundation, recognise the courage shown by stroke survivors and carers, as well as the great work and commitment shown by health professionals, groups and supporter organisations.
Jon Barrick, Chief Executive of the Stroke Association, said: "Pippa's been blazing a trail in stroke research and care for many years.  Her energy, enthusiasm and commitment to improving the lives of others know no bounds. Her life-saving work has been responsible for transforming the lives of stroke patients up and down the country.  She is undoubtedly one of the most inspirational, yet down to earth, stroke experts we have the privilege of working with."
More information on the Life After Stroke Awards and short films about the winners, including Prof Tyrrell's story, can be found at: