Visit the LinkedIn bus on campus today
25 Jun 2015
LinkedIn's #ProjectManchester bus will be visiting The University of Manchester on Thursday, 25 June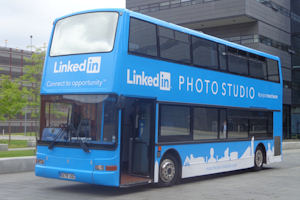 Whether you already have a profile or are brand new to the site, this is a great opportunity to receive some expert advice from LinkedIn professionals on making the most out of it. The team from LinkedIn will be on hand to help staff and students build and improve their profiles, as well as to offer tips on using the site to create a personal brand and network effectively.
There will also be the chance to use their professional photo studio to ensure you have a LinkedIn ready photo for your profile.
You do not need to register, simply pop along to visit bus on the outside George Kenyon Hall between 11am-2pm.
If you can't make it, the bus will be on a tour around Manchester from 22-26 June.
Further information
You can find out more at: