Museum of the Year Photography Competition: Vote by 22 June
17 Jun 2015
Vote for your favourite photo – and you could win a trip to Paris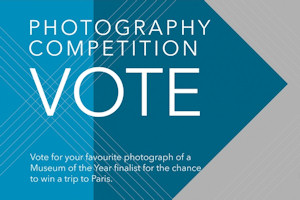 There is one image for each of the six finalists for this year's Museum of the Year, and you can vote for your favourite now.Voting has opened for the Museum of the Year Photography Competition – submitted as part of an open call and whittled down by world-famous photographer Martin Parr from 1,800 entries to just six.
Each image sums up the different appeal of the six finalists, from a moving shot of a WWI nurse at Dunham Massey just down the road to – and we would say this – a brilliant image of a little girl playing with the shadows cast by Cornelia Parker's Cold Dark Matter at the Whitworth. That girl is Madeleine Sugden's daughter, who had made a "spontaneous trip from London to see it. It meant a lot as we had sat by Cold Dark Matter for an hour on our first date back in 2003, so it as special to see it again with our children." A beautiful photograph with an interesting story – one that shows how art can play a part in shaping our lives.
Voting is open now, until 22 June. Everyone who votes will be entered into a prize draw to win a photography weekend in Paris, courtesy of creative holiday experts, Frui.
Cast your vote 
Go to:
Best of luck!