University rides high at social enterprise awards
17 Jun 2015
Our commercialisation and enterprise teams show our commitment to social responsibility at Unltd SEEChange National Conference and Awards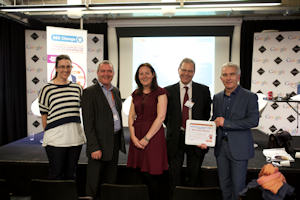 The Social Enterprise Team at The University of Manchester Intellectual Property (UMIP) and Manchester Enterprise Centre (MEC) walked away with a series of accolades at the UnLtd SEEChange Recognition Awards for Social Enterprise, held in London on Wednesday, 10 June. 
Unltd See Change is a programme championing system development and knowledge exchange to mainstream social entrepreneurship within the Higher Education sector in England. 
Not only did the University retain the prestigious Higher Education Institute of the Year Award for Supporting Social Entrepreneurship, but many of its social enterprises and key projects also won awards. 
Shon Lewis and Charlie Stockton's Clintouch, a new technology which supports people with psychosis won the Outstanding Innovation Award. Edwin Broni-Mensah, who graduated just under five years ago and was one of the first student winners of an UnLtd development award and a Venture Further finalist in 2010, was a runner-up in this category. 
Ruth Daniel won the Social Enterprise of the Year Award for her work with In Place Of War, an award-winning initiative which helps to build powerful networks, create social change through creativity and demonstrate the value of the arts to public space, public life and public debate. Amy Win was shortlisted in the same category for her project 4Lunch. 
Adam Garrow won the Outstanding Achievement Award for Jolly Wheezers and Dr Laura Etchells from UMIP and Dr Martin Henery from MEC were both runners up in the Social Entrepreneurship Champion of the Year category.
James Thompson, Associate Vice President for Social Responsibility, said: "Social entrepreneurship is at the heart of our University culture and infrastructure and these successes are a great demonstration of that commitment to enterprise, research with social impact and social responsibility. This is a well-deserved show of recognition for the work of MEC, UMIP and all of the staff and student winners and runners-up."