Election was won on wealth creation, says Mandelson
12 Jun 2015
Former Labour MP and Cabinet Minister speaks at special seminar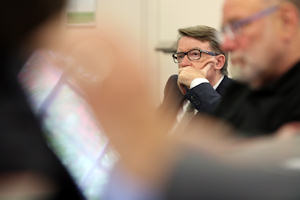 Labour lost the General Election because it did not have a sufficiently convincing wealth creation strategy according to Lord Mandelson, who was speaking to University staff and students at a special seminar.
The former Labour MP and Cabinet Minister was speaking at 'Polls, politicians and pundits: the inside story of GE2015', in which political scientists from the University dissected the results of the General Election in which they featured so prominently in the media.
The event was organised by Democracy and Elections, the University's hub for electoral politics.
Lord Mandelson also argued that Labour needs to ensure it appeals to the whole country and be seen as a credible alternative Government if it is to regain power.
"I was never a poll junkie, I trusted my instincts when I was Labour's Director of Communications," he told an expectant Arts Lecture Theatre audience.
"I have always anticipated every election result, except this last one," he added.
Also speaking were  Professor Jane Green, a Co-Director of the British Election Study, Dr Rob Ford, and one of the nation's leading experts on Ukip, Professor Andrew Russell, Head of Politics, Professor Ed Fieldhouse, Co-Director of the British Election Study and Dr Maria Sobolewska, one of the foremost commentators on ethnic minority voters.
Professor Rachel Gibson, convenor of Democracy and Elections, and Professor Andy Westwood, Associate Vice-President for Public Affairs and a former special adviser, chaired the event.