Keeping your confidential calendar appointments safe
12 Jun 2015
When making an appointment in your Outlook Exchange Calendar, if it contains confidential information it's important to remember that the appointment information may be visible to others, depending on how your calendar is set up.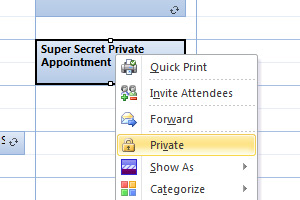 For example, if you have shared your calendar or created delegate access, then the subject of the meeting, other attendees and attached papers may also be visible.
To help you ensure your confidential information is kept private, our "Introduction to Microsoft Outlook Exchange Calendar" training guide shows you how to check who has access to your calendar and how to make appointments private.
Contact the IT Support Centre if you would like more advice on this, or any other IT topic.
IT Services