World Health Organization recognition for public health centre
10 Jun 2015
A University research centre has been awarded World Health Organisation Collaborating Centre status for its work on improving the health of people across Europe and in the Greater Manchester area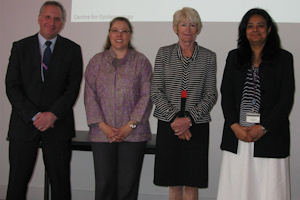 Following a launch event on 8 June, The Manchester Urban Collaboration on Health (MUCH) will now be working with the WHO to shape the co-ordination of health information across Europe, building on long-standing ties.
Dr Arpana Verma, who leads the Centre, said: "Essentially what we do is provide guidance, based on research, which lets countries use the best methods possible for improving health in their populations.
"The most vulnerable often have the worst health and well-being outcomes. By using information better, we can understand how to reduce the inequalities that have been steadily growing across Europe.
"This includes understanding the patterns to work out why we see the differences in health and well-being across our communities, improve the uptake of vaccinations, help improve people's knowledge of why early diagnosis and cancer screening is important, and promoting healthy lifestyles to combat obesity. 
"WHO Collaborating Centre status places us in a much stronger position to carry out this work, so we're delighted to have received it."
MUCH is an important element for the implementation of the WHO's Health 2020 strategy to significantly improve the health and well-being of populations, reduce health inequalities, and strengthen public health in Europe. 
Dr Verma is part of the steering group for the European Health Information Initiative project, and the WHO Collaborating Centre will be able to work more closely with the WHO on what will make a difference to the health information that is all around us being used to help the most vulnerable.
As well as working at the European level, MUCH also works with NHS and local authority figures in Greater Manchester on health initiatives such as reducing blood-borne diseases and creating better links between health workers across the region. One result of this work has been the International Festival of Public Health, held in Manchester for the last three years and next taking place on 2 July. 
The launch event was attended by the University's President and Vice-Chancellor, Professor Dame Nancy Rothwell, Professor Martin Tickle, Director of the Institute of Population Health, and leading figures from the WHO. The photo shows (left to right): Martin Tickle, Claudia Stein, Nancy Rothwell and Arpana Verma.
MUCH has become the second WHO Collaborating Centre at the University after the Centre for Global Women's Health was also given the status last year.
Further information