Building Hope celebrates its tenth anniversary
05 Jun 2015
Veronique Rizzuto from the Equality and Diversity Office is the Founder and Trustee of a small Charity which helps to improve the lives of communities in Ethiopia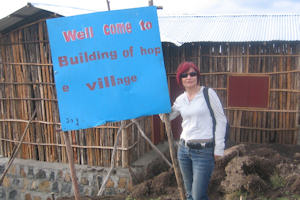 It's been 10 years since Building Hope was established and during that time the charity has raised over £80K to provide housing and sanitation, educational opportunities and support income generating projects.
Veronique set up the charity after working as a volunteer in Ethiopia, where she was so struck by the abject poverty, misery and despair of young people in particular that she was determined to help build a better life for some of the people she met. The two main projects undertaken by Building Hope were the construction and furnishing of a library and latrines at Karagutu School and the building of homes for some of the leprosy families living in Dessie.
Veronique will be in Ethiopia again this summer working on a project to help improve sanitation at a school where there are only four latrines for over 1,000 pupils. Veronique explained, "Building Hope will provide the children with the basic sanitation facilities that we take for granted and, in particular, providing privacy for young girls so that they don't miss school on a monthly basis." 
To mark the 10-year milestone, Building Hope are planning a series of fundraising events organised by members and supporters of the charity.
If you'd like to support Building Hope:
you can be part of a sponsored event and create your own fundraising page via MyDonate: Building Hope or you can organise your own fundraising activities;
you can even give a regular donation via the University's Workplace Giving Scheme by simply providing our Registered Charity No. 1110814.
Further information
Download the charity's latest newsletter/blog
email Veronique.rizzuto@manchester.ac.uk