Six earn honours for excellence in teaching and teaching support
05 Jun 2015
Teaching Excellence Awards have been given`to six members of University staff to recognise their achievement in teaching, learning and the student experience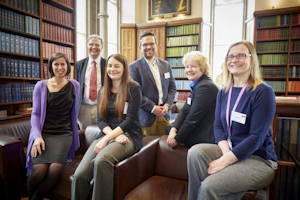 The awards were presented at the 2014/15 Teaching Excellence awards ceremony in Christie's Bistro on 26 May 2015. Hosted by Professor Clive Agnew (Vice-President for Teaching, Learning and Students), the event featured presentations by each of the winners, along with speeches from Professor Agnew and Professor Kersti Börjars.
This year's winners are:
Caroline Bowsher, Faculty of Life Sciences, for all that she has achieved in this area, both with respect to teaching - in particular the Bioethics unit - and with respect to her work with colleagues.
Will Carey, Teaching and Learning Support Office, for the way in which he truly made the most of his role and made a real difference to students, both directly and indirectly through the PASS leaders and through his influence on academic colleagues.
Iain Dupere, School of Mechanical, Aerospace and Civil Engineering, for the way in which he put thought and effort into making teaching and learning fun.
Gemma Edwards, School of Social Sciences (Sociology), for her approach to her own teaching and to the students' learning, and for the way in which she combined support for employability and encouraging community building through the 'ProD'.
Jennifer Silverthorne, Manchester Pharmacy School, for the way in which she has engaged in development both at the level of her own course units and at programme level, especially with respect to the work on providing placements.
Judy Williams, Manchester Medical School, for the breadth and depth of her profile.
Submissions for the awards were judged by a panel drawn from across the University and chaired by Professor Kersti Börjars. The winners demonstrated individual excellence, evidence of supporting and developing colleagues, impact and engagement beyond their immediate role as well as a commitment to their own development in teaching and learning. 
The six winners will now join the University Teaching Excellence Network along with previous winners, our National Teaching Fellows and Distinguished Achievement Medallists to support and influence teaching and learning development in the future.
Further information
You can find out more about the winners online at:
Should you have any enquiries regarding the awards ceremony or the Teaching Excellence programme then please email: