University wins silver in 2015 CASE Circle of Excellence Awards
04 Jun 2015
Judges praise heritage booklet for interesting content, perfect design and understanding the audience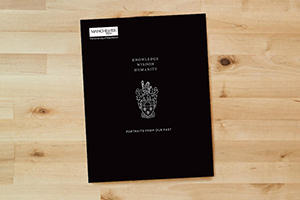 The University has won a Silver Award for our heritage booklet in the prestigious 2015 CASE Circle of Excellence Awards.
The 36-page publication, entitled Knowledge, Wisdom and Humanity – Portraits from our Past, was produced by Neil Condron and Russell Hart in the Division of Communications and Marketing, in conjunction with James Hopkins, the University Historian and Heritage Manager.
It looks back at the history of the University, from our roots in medical and technical education and as the UK's first civic university, through to our current status as the UK's largest campus-based University. It features our pioneers, iconic buildings, and key discoveries and developments, supported by extensive archive photography.
There were 37 entries in total in the in-house print publications category, where The University of Manchester entry beat off stiff competition from leading universities across the globe.
The CASE website describes the brochure as "a reverent introduction to the history of an institution that introduced a new model of the university and became one of the world's most progressive places of learning".
The judges commented in particular on the interesting content, perfect design, which captures the distinction of the place, and a good understanding of the audience.
They also observed that "The University of Manchester delivered up [a] very unique publication, which hit home with specific target audiences."
President and Vice-Chancellor Professor Dame Nancy Rothwell said: "Fantastic news and a real recognition of the major advances in Communications and Marketing over the last year or so. Very well done! Huge thanks also to James Hopkins, who was very much behind this piece of work. Incidentally I use the brochure all the time with visitors!"
You can download the heritage booklet on the University website at: