Postgraduate Summer Research Showcase: a unique and spectacular celebration
03 Jun 2015
On Friday, 5 June 2015 (10.30am-3pm), followed by the MDC Excellence Awards (4-5pm), in Whitworth Hall and Christie's Bistro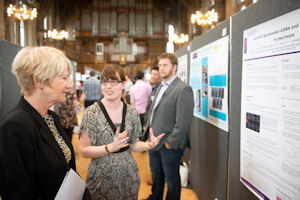 Come along to explore the range and diversity of research here at Manchester by engaging with the researchers who are at heart of new discoveries!
The Postgraduate Summer Research Showcase (PSRS) is a spectacular celebration of postgraduate research from across the University. Hosted by Manchester Doctoral College, it will bring together researchers from all four faculties to create a unique environment to foster interdisciplinary networking and promote a communication of ideas.
There will be over 200 posters on display with researchers themselves on hand to engage with. There will also be a showcase of the finalists from the 2015 Image competition capturing their "Research in Action". The work of our researchers will also be brought to life through the finalists of the "Short Films" competition, who were challenged to communicate their motivations and inspirations as a researcher.
By giving our postgraduate researchers a unique platform to showcase and present their research, PSRS helps us create more powerful researchers of tomorrow, who are able to communicate their research to a wide audience.
Prizes will be awarded to the best posters, images and films, and researchers will gain invaluable feedback and experience.
Everyone from inside the University and outside is encouraged to attend to see the brilliant research that our very own students are doing!
Further information