National competition success for Manchester barbershop quartet
04 Jun 2015
Tagline, a quartet of former Manchester music students, recently won the British Association of Barbershop Singers' National Quartet Championship in Llandudno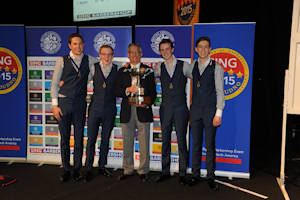 Their score of 79.1% was the highest in the competition's history. Having finished in fourth place in the two previous years, they also became one of the youngest quartets to win the competition.
The quartet, Ben Ferguson (tenor), James Gower-Smith (lead), Chris Langworthy (baritone) and Rob Foot (bass) had no experience of singing barbershop until they started their studies at the University. They joined the University's men's barbershop chorus, Mantunian Way, and then led them to a 3rd place finish in the BABS National Chorus Competition in 2014. Their songs come from a wide variety of artists, from Dean Martin and Nat King Cole to Billy Joel and Randy Newman, all sung and arranged a capella.
As a result of their score, Tagline have qualified for the International Quartet Competition in Nashville in 2016 where they will compete against some of the best quartets in the world. Alternatively, if you want to see them in concert, like their Facebook page and follow them on Twitter to keep up to date on any new events they're involved with.
To get a taste of what they can do, watch them perform Nat King Cole's L-O-V-E.
The photo shows Tagline receiving the BABS National Quartet Champions' Trophy from BABS Vice-Chair Peter Cookson (left to right: Ben Ferguson, James Gower-Smith, Peter Cookson, Chris Langworthy and Rob Foot).
Rob Foot is now employed at the University as Senior Student Services Assistant (Exams) in the Student Admissions and Administration Divison of the DSE.