Mont Blanc climb lets 62-year-old heart researcher put back
28 May 2015
A University of Manchester Professor of Cardiac Electrophysiology who suffers from high blood pressure and cholesterol will undertake the challenge of a lifetime when he climbs Mont Blanc next month to raise funds for the British Heart Foundation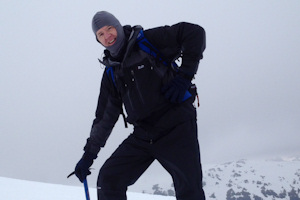 Mark Boyett, who is 62 and from Sale, will be raising the money to put something back after receiving nearly £13m for his research over the course of his career and has been training for three years for the arduous ascent of western Europe's highest mountain.
He said: "Throughout my long career, my research on the heart has been generously supported by the BHF – I have received 53 grants from them.
"I thought the climb would be fun, but also an important opportunity to give something back to the people who have allowed me to carry out my research."
Mark's investigations focus on the ion channels of the heart. The heartbeat is initiated by electrical impulses radiating in a co-ordinated and rhythmic manner from the pacemaker of the heart, the sinoatrial node.
But when the electrical impulses are no longer co-ordinated due to a fault with one of the ion channels, the result is a cardiac arrhythmia and this can result in sudden cardiac death.
He has been training for his Mont Blanc trek for the past three years, and says it has helped him lose weight and increase his fitness. "As well as doing a lot of hillwalking, I have been going to the gym four times a week, and I try to leave the car at home," he said. "I eat a healthier diet now too. I think looking after your fitness is particularly important at my age."
Mark arrives in Chamonix on 20 June for one week's acclimatisation before heading out on the climb. Using head torches, crampons and ice axes, his group will set off at midnight when the glaciers on the 4,810m mountain are frozen. He will have to pass through the 'Valley of Death' with falling rocks, and roped together they will traverse steep snow covered slopes with two kilometre falls to the bottom.
"Although I am a bit frightened, I am really looking forward to it," Mark added.
Donations
If you'd like to support Mark, please go to: