Transformation thanks to true case of team work
22 May 2015
Cross campus teams join forces at Debdale Park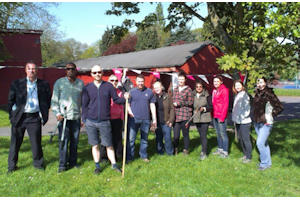 A cross-campus team helped transform Debdale Park in Gorton, with volunteers from the Directorate of Human Resources (HR), Office for Social Responsibility and Institute of Human Development joining forces.
They were Susan Field, Joanne Davidson, Rachel Spilsbury, Eva Azariah, Lisa Roach, Joanne Taylor, Nuala Gansler, Adam West, Catherine Prescott, Patrick Johnson and Laurie Swindells from HR, Julian Skyrme from the Office for Social Responsibility and Katie Turner from the Institute of Human Development.
They tackled a range of jobs including cutting back and clearing overgrown shrubbery, litter picking, raking, wheel barrowing and spreading bark along a pathway.
The weather was great for such outdoor activities (no rain!)
The day began with general introductions from us, Stephen Downey and his team from Manchester City Council's Community and Cultural Services, Growth and Neighbourhoods Directorate and Gaynor Anthony from the Give and Gain Day Team at Business in the Community, followed by a health and safety briefing.
After that, everyone was eager to 'get into action' with their loppers, rakes, wheel barrows and litter picks and made a very positive contribution and worked hard.
The day went well and the 'before and after' photographs reflect the good spirits of the team, who got a lot out of the experience and felt virtuous at the results achieved.  The team also received glowing feedback from Stephen and his colleagues for the fantastic work done.
In terms of the next Give and Gain Day 2016 – the team would recommend you too becoming a volunteer as it is a worthwhile activity.
To find out more, visit: