Heroes' return!
22 May 2015
Faculty of Engineering and Physical Sciences team combine gardening and engineering skills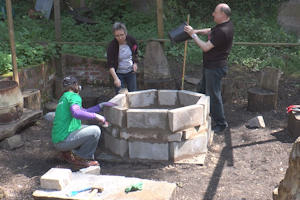 The Faculty of Engineering and Physical Sciences (EPS) PSS Leadership team returned to Garden Needs in Salford this year for their second Give and Gain Day.
Garden Needs is a social enterprise located on the edge of Kersal Dale Nature Reserve, on the River Irwell, in inner-city Salford, which connects local residents to nature and give a sense of wellbeing to the community.
The EPS team was made up of Heads of School Administration and colleagues from both the Research Institutes and the Faculty Office.
The green-fingered bunch got to work maintaining the garden by weeding and potting in the glorious Salford sun while others put their engineering skills to the test by building an impressive fire pit with disability access, clearing out drainage and constructing a fence.
Rachel Brealey, EPS Director of Faculty Operations, said: "Give and Gain Day is an important way for us to make a difference to our local community but as a team we also reap the rewards of working together and learning more about each other in a relaxed and tranquil environment."
Karen Varty, Head of School Administration for Computer Science, said: "I really enjoyed getting out of the office and being involved, it's a very satisfying thing to do."
Adrian Parker, Director of Operations at the Dalton Nuclear Institute, added: "It was great to come back and see how much the garden had flourished, and be reminded of some of our work from last year such as the boardwalk. I would absolutely recommend Give and Gain Day, what a privilege to make a difference by contributing to something worthwhile."
To find out more, visit: