Jodrell Bank secures major Heritage Lottery Fund support
20 May 2015
The University of Manchester's Jodrell Bank Observatory has received Heritage Lottery Fund support* for a £12,147,200 bid for the 'First Light' project, it was announced today (Wednesday).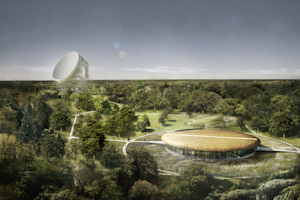 The project aims to conserve and restore the heritage of the Jodrell Bank site and create a spectacular new space in which visitors can engage with and learn about the journey to explore our place in the Universe. Development funding of £784,800 has also been awarded to help the University progress their plans to apply for a full grant at a later date.
Jodrell Bank is an internationally important place in the heritage of astronomy. It is the only site remaining in the world that shows the whole history of the development of radio astronomy – the first step towards the field of modern astrophysics that we know today. Its story includes revolutionary scientific discoveries, amazing feats of post-war engineering, the dawn of the Space Age and the creation of the Grade-1 listed Lovell Telescope, an icon of UK science and engineering.
Professor Dame Nancy Rothwell, President and Vice-Chancellor of The University of Manchester, said: "We are incredibly proud of our current science and great heritage at The University of Manchester and of our iconic site at Jodrell Bank. The announcement today is great news, not only for the University, but for our city-region and the UK-wide science community."
Dr Teresa Anderson, Director of the Jodrell Bank Discovery Centre said:  "We are absolutely delighted that the Heritage Lottery Fund is supporting the 'First Light' project. Jodrell Bank epitomises a 'can do' approach to science and engineering and this funding will allow us to tell the story of all the amazing men and women who – sometimes, with help from younger family members – created the Observatory from scratch. Our mission is to inspire the scientists of the future, key to which is understanding that scientific discovery needs grit and determination, just as much as it needs creativity and inspiration!"
Professor Brian Cox, University of Manchester Physicist and Broadcaster, said: "I am really pleased to hear that the Heritage Lottery Fund is supporting the heritage of Jodrell Bank. The rich scientific history of the UK is a key part of our culture and Jodrell Bank is the stand-out icon of UK science and engineering. When I was young, visiting Jodrell Bank was one of the things that inspired me to become a scientist. This new project will inspire many more young people to carry on our great tradition of science and engineering."
Sara Hilton, Head of HLF North West, said:  "Jodrell Bank is a remarkable and world famous site.  These initial proposals are ambitious and inspiring; they will encourage people to learn about and celebrate the UK's longstanding tradition of innovation in science, technology and engineering.  The 'First Light' project has a clear focus on volunteering, skills and learning and we know that it will make a big difference in reaching out to a wide range of people, including those of school age."