Staff benefits update
06 May 2015
This week's offers and discounts include organic veg boxes, Kiddivouchers, Superbreak, Opera House and Palace Theatre, plus Perkz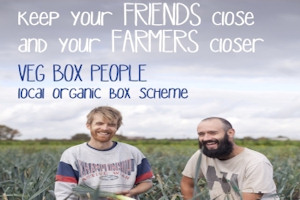 Organic veg boxes on campus with Veg Box People
Veg Box People is a 'veg box' scheme run by local organic farmers and The Kindling Trust in partnership with the University of Manchester and Manchester FoodCycle. The Kindling Trust was established because it was concerned about the impact of the current food industry on the environment, on our high streets, on small-scale farmers and consumers.  Kindling helped to establish Manchester Veg People to bring together farmers and buyers, to increase understanding and therefore fairness in the food supply chain - making small-scale organic production a viable livelihood once more.
Manchester Veg People are seeking their first 100 customers over the next few weeks to commit to buying a weekly organic veg box of delicious seasonal produce from just £8. It starts on 2 June when you will be able to collect your veg box from the University campus (University Place).
Kiddivouchers
It's election fever which includes waiting for updates on the Tax Free Childcare Scheme. You can use the Kiddivouchers Tax-Free Childcare savings calculator to find out which scheme is most suitable for you.  Be in a position of choice in autumn 2015 by signing up to KiddiVouchers now! Only those who are signed up by autumn 2015 can continue to receive Tax and NI savings. Find out more here.
Superbreak
Your May offers from Superbreak include Edinburgh for the Royal Military Tattoo, show of the month Wicked or you can check out the UoM link for the full range of breaks and theatre deals available.
Opera House and Palace Theatre - Jaleo Flamenco Meal Deal
Jaleo return to Britain with their latest stage show A Compás (in rhythm) at the Opera House on Wednesday, 17 June 2015 (7.30pm). Meal deals available at La Tasca (£24.95) and La Vina (£29.95). Dirty Rotten Scoundrels has a £15 best available offer also available. Please call Group bookings on 0161-245-6666 quoting University of Manchester.
Perkz competitions
Find out the latest offers in the May newsletter and this month you also have the chance to win:
Two tickets to the British Grand Prix on 5 July 2015;
Haven holiday - A three-night weekend or four-night midweek self-catering break for up to six people.
For full details of these competitions please visit Perkz and select 'competitions' from the category menu. If you haven't registered yet with Perkz, contact hrservices@manchester.ac.uk for the unique code.
Have a great week and find out more at: