70th anniversary of VE Day: Belsen and Auschwitz survivor speaks in Manchester
06 May 2015
A Holocaust survivor is sharing her experiences as the cellist of the Auschwitz women's orchestra during a University of Manchester guest lecture being held the day before the 70th anniversary of VE Day (7 May)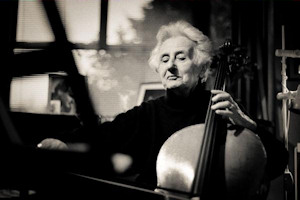 Anita Lasker-Wallfisch, a survivor of both Auschwitz and the Bergen-Belsen concentration camps, says it was her ability to play the cello that saved her life because it gained her a place in the camp's orchestra.
After the war Lasker-Wallfisch joined the English Chamber Orchestra and her son is the renowned cellist Raphael Wallfisch. She is the author of the memoir Inherit the Truth.
The event will also include performances of two songs by Mieczyslaw Weinberg memorialising the Holocaust.
The Guest Lecture 'Music and Auschwitz' by Anita Lasker-Wallfisch is taking place on Thursday 7 May 2015, 4.15 – 5.45pm at the Martin Harris Centre for Music and Drama (Cosmo Rodewald Concert Hall). This event is FREE. There is no need to book tickets: just turn up.