Postgraduate Scholarship Scheme
27 May 2015
Bushra Farooq tells her real life story behind our scheme to help talented students overcome barriers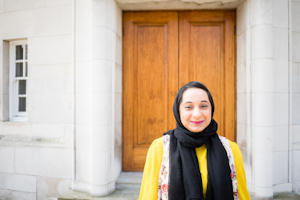 The University's Postgraduate Scholarship Scheme has helped students to overcome a variety of barriers to master's study. In this StaffNet series, we see some of the real life stories behind the scheme – illustrating perfectly just why we do this.
The Postgraduate Scholarship Scheme helped Bushra Farooq overcome an all too familiar quandary when planning to study for a master's degree.
Having accessed higher education with the help of a full maintenance grant, a lack of funding for postgraduate study meant  she would have had to work full-time, which would put a lot of pressure on her during an intensive course. And this in a new city, which she didn't know very well.
"Coming from an ethnic minority group and being the first in my family to go to university, it was hard at first, not knowing what to expect or being able to get any advice on going to university. Finance for me was a big barrier in accessing higher education," she explains.
"It was especially difficult after my undergraduate degree as I wanted to pursue a career in clinical psychology, but this field is already so competitive. I wanted to gain an advantage by completing a master's, but there was no funding available to do that.
"I was working full time in the summer to save up to pay for my master's degree and I thought I would have to carry on working when I started my degree too.
"The scholarship made a very big difference in that I can focus more on my studies. Without it, I would probably be working almost full time to pay for my studies, which would have made it very difficult for me."
Having completed her undergraduate degree at the University of Bradford, Bushra also faced moving to a new city for her master's.
"One of my concerns was coming to a different town and a place I didn't know very well. I didn't know what to expect really, I was also worried I wouldn't enjoy the course," she says.
"But it was a good change coming to Manchester, the University is excellent and I'm enjoying myself here.
"What I've found challenging is the high academic standard, especially compared to completing an undergraduate degree. But I'm enjoying my course and I find it very interesting – that definitely helps, to do what you're interested in and want to pursue further.
"The year has gone by so fast. I don't want it to end! It's been an excellent experience."