Postgraduate Scholarship Scheme
20 May 2015
Michael Riley Jones tells his real life story behind our scheme to help talented students overcome barriers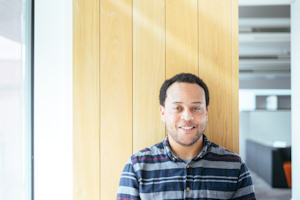 The University's Postgraduate Scholarship Scheme has helped students to overcome a variety of barriers to master's study. In this StaffNet series, we see some of the real life stories behind the scheme – illustrating perfectly just why we do this.
Leaving his job in youth and community work to study again was a big decision for Michael Riley Jones – not least because of his dyslexia – but the Postgraduate Scholarship Scheme has helped to ease the transition.  
"I come from a working-class family, no one in my immediate family had studied beyond secondary education, and so it was a big step," Michael recalls. "Within my wider family further education was not really an option and so not encouraged."
Michael began his undergraduate studies at 27, as a mature student. During his undergraduate degree, he observed that much of the literature "was from a perspective that didn't necessarily relate to my personal background or perspective", and modules related to sociology sparked an interest in a subject that he hadn't formally been exposed to before.
Michael gained a place to study an MA in Sociology, supported by a Postgraduate Scholarship. However, his dyslexia meant that he still had concerns:
"I was concerned about completing all the reading, as I knew there would be a lot and, due to my dyslexia, I read very slowly  and easily get lost, struggling to remember much of what I've read.," he explains.
"I was also worried about whether I was academically capable of working to master's level. I felt like master's study was for people different to me: the exceptional students, those students that never left the library.
"The reality has been very different. Although I have struggled with the reading, I have learnt to read more effectively, and more importantly realised that I can't always read everything and that it's okay. As for the ability aspect, I have done well in my assessments – better than I thought I could."
Has the scholarship made a difference? Michael believes so.
"I suppose in a material way the scholarship has facilitated my access to the course, but it's also allowed me personally and academically to grow, triggering a social and political engagement previously off limits," he says.
To prospective master's students in similar circumstances, he says: "Your fears about the rest of the class being 'smarter', or 'better' are soon revealed as irrational, and wrong, and irrespective of prior knowledge, it becomes clear that you can do as well as you want, as long as you apply yourself.
"Just go for it. It won't be easy, but it also won't be anything like as difficult as you've no doubt convinced yourself it will be."