Postgraduate Scholarship Scheme
13 May 2015
Louise Finnegan tells her real life story behind our scheme to help talented students overcome barriers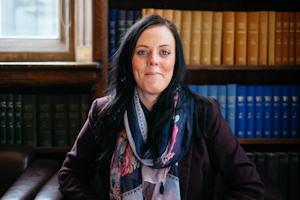 The University's Postgraduate Scholarship Scheme has helped students to overcome a variety of barriers to master's study. In this StaffNet series, we see some of the real life stories behind the scheme – illustrating perfectly just why we do this.
Juggling her master's with single parenthood and a job has been tough for Louise – but the Postgraduate Scholarship Scheme, along with her determination and the support of her academic department, have helped her through.
Louise, mum to eight-year-old Amara and seven-year-old Maya, is studying for an MRes in Criminology as a pathway to a PhD, and wants to be a good example to her girls.
"It's all they've ever known – Mum doing her University work. They are doing well at school – they keep trying until they achieve what they set out to. I didn't have that growing up with my parents," she explains.
Louise, a mature student, graduated with a First Class Honours Degree from the University of Chester in 2013, supported by grant finance. Her intention was always to progress further with her studies, ultimately into an academic career – but as a single parent on a low income, her financial and personal circumstances meant she was unable to fund a postgraduate degree.
The scholarship was a lifeline, although childcare, travel to University and study supplies meant she still had financial worries.
"I still had to work, and was worried about whether my timetable would fit in with my work hours," she recalls. "Fortunately my timetabled lectures did fit in with my employment, and although it's been hard juggling it all, the School of Law has been very supportive and I've managed to complete my assessments with good grades.
"If it wasn't for the scholarship I would not have been able to study further. It has enabled me to further my academic career and I am so grateful for this opportunity."